Rep. John Conyers Fights Back
Rep. John Conyers plans to appeal a decision that could keep him off of the primary ballot.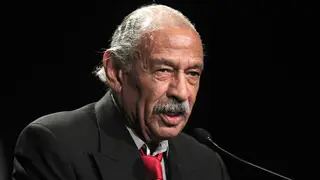 Detroit Congressman John Conyers, the second-longest-serving member in the House, has decided to appeal the decision by the Wayne County clerk that disqualified him from being on the August primary ballot. In addition, he is joining a lawsuit filed by the ACLU challenging the constitutionality of the Michigan law that requires those who collect signatures for ballot petitions be registered voters.
San Francisco State University political scientist Robert Smith is not optimistic about the outcome of the lawsuit, "particularly since he's challenging [the requirement] after the fact; it's not something new."
Since the clerk's ruling was disqualified, Democratic leaders, from Congressional Black Caucus Chairwoman Marcia Fudge to Democratic National Committee Chairwoman Debbie Wasserman Shultz and President Obama, have indicated their support for Conyers's re-election.
"As a founder and most senior member of the CBC, John Conyers has been an advocate for the Congressional Black Caucus and a respected leader in the House of Representatives," Fudge said in a statement. Mr. Conyers has an unwavering commitment to the people of Detroit's 13th district, to preserving civil rights in this country and to protecting the principles of democracy in America. As chair of the CBC, I will do all I can to be supportive of Congressman Conyers."
Still, the conundrum has left some people scratching their heads, wondering how a veteran and seasoned lawmaker could make such a rookie mistake. Was he set up as his campaign manager and former rival, state Sen. Bert Johnson, has suggested, or just ill-served by his staff?
Smith suspects it's most likely the latter. 
"This is not a matter that he is personally responsible for; he turned it over to people who did not do their job," Smith said. "I think it would be a sad end to a very illustrious career if he had to leave office on the basis of some snafu."

But Smith also suggested that it may be a sign that the time has come for Conyers, who turned 85 last week, to step down, as fellow Michigan Rep. John Dingell, the longest-serving member in the history of the House, will do at the end of the 113th Congress. He said that Conyers and other longtime lawmakers, including New York Rep. Charles Rangel and California Sen. Diane Feinstein, should retire and give rising stars like California attorney general Kamala Harris and others their chance to shine, "but they won't go."
In the end, however, Conyers may win a 26th term as a write-in candidate, unless, Smith warns, "people share the sentiment that this snafu somehow reflects an out-of-touch old man, his long and quite distinguished career will hold him in good stead."
(Photo: AP Photo/Carlos Osorio)