Rev. Al Sharpton Reveals He Has Contracted COVID-19
He issued a statement about his diagnosis.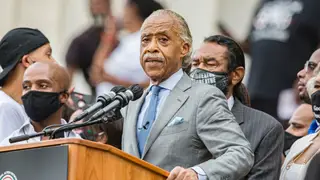 Rev. Al Sharpton had announced that he contracted COVID-19 and is currently quarantining.
On Saturday (June 11), the civil rights leader, pastor and founder and President of the National Action Network (NAN), issued a statement after testing positive for the coronavirus.
"On Friday, I tested positive for COVID-19 but have not displayed any symptoms at this time. On my doctor's advice, I am quarantining over the next several days to keep those around me safe," Sharpton noted in the statement obtained by BET, adding that he encourages people to continue to get "vaccinated and boosted if you haven't already."
Sharpton also said in the release that he will continue hosting his TV and radio shows remotely while he isolates.
The reverend's positive diagnosis comes after he visited family and friends of the victims of Buffalo's mass shooting from last month. According to the Associated Press, Jaques "Jake" Patterson, who lost his father, had his face covered with his hands as his mother spoke at a news conference. After she finished her remarks, Patterson collapsed into Sharpton's arms as he cried silently.