Friends And Family Of Buffalo Mass Shooting Victims Speak Out Against Accused Killer
Members of the community gathered together to call for action.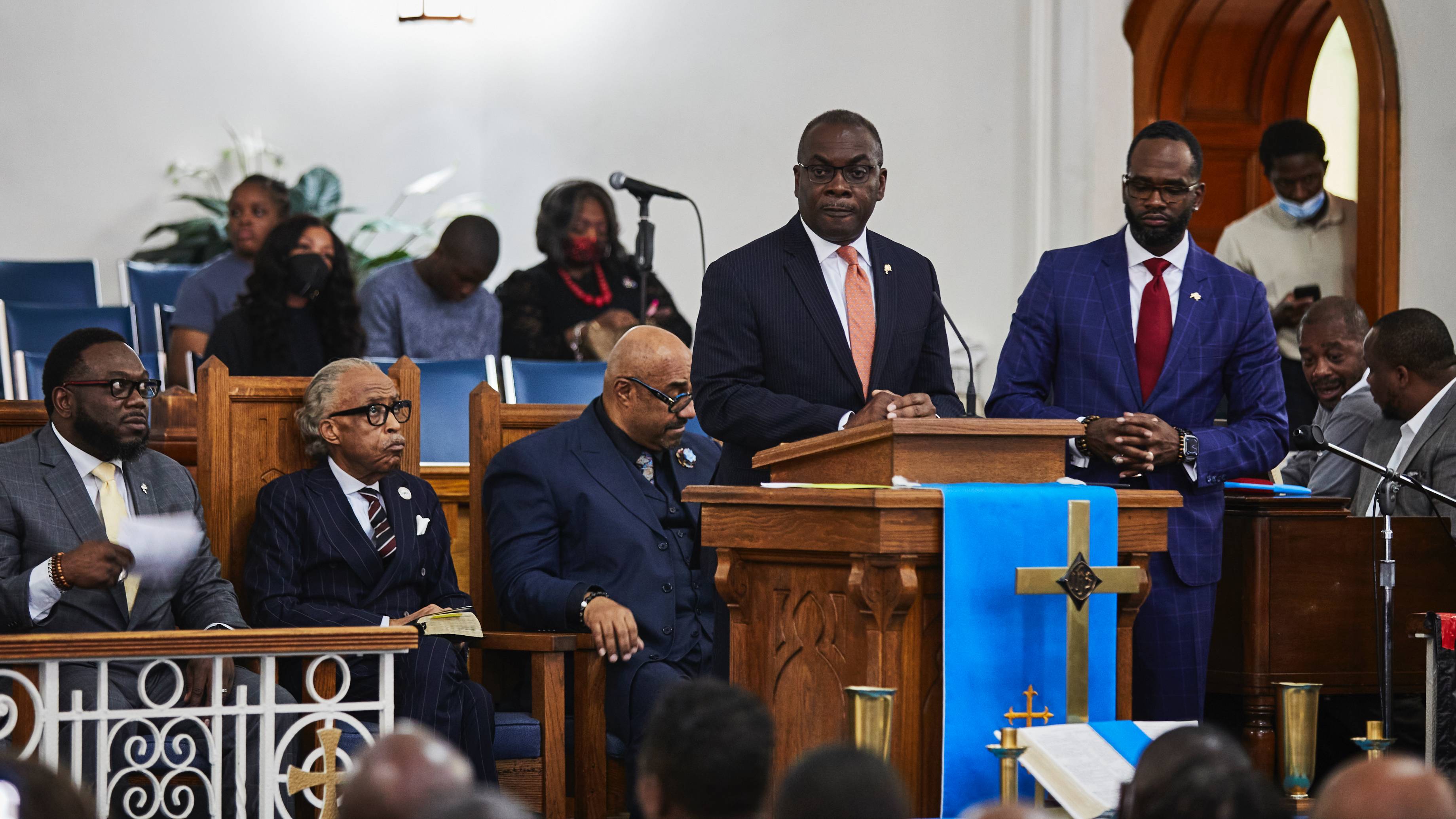 Relatives of the 10 people who were massacred in the Buffalo Tops Friendly Market massacre are speaking out, pleading with the nation to confront and stop racist violence.
Jaques "Jake" Patterson, who lost his father, had his face covered with his hands as his mother spoke at a news conference. According to the Associated Press, after she finished, Patterson collapsed into the arms of Rev. Al Sharpton as he cried silently.
"His heart is broken," said his mother, Tirzah Patterson. "As a mother, what am I supposed to do to help him get through this?"
Her ex-husband, Heyward Patterson, a 67-year-old church deacon, was shot and killed Saturday. Robin Harris's 86-year-old mother and best friend, Ruth Whitfield, was also there on a day when they were supposed to go see the touring Broadway show Ain't Too Proud.
"That racist young man took my mother away," Harris said. "How dare you! I need this violence to stop. We need to fix this, and we need to fix it now."
According to the Buffalo Police Department, 18-year-old Payton Gendron, the accused shooter, entered the grocery store on May 14 with a military-style assault rifle and opened fire. Investigators believe it was a racially motivated attack, the Associated Press reports.
Gendron, whose lawyer entered a not guilty plea for him at an earlier court appearance, didn't speak. His attorneys later declined to comment. He is being held without bail and is due back in court June 9.
"We need to hold all that have aided and abetted the hate in this country accountable," Sharpton said at the news conference outside Buffalo's Antioch Baptist Church. His National Action Network plans to cover funeral expenses for those killed, according to the AP.
Authorities are investigating the possibility of hate crime and terrorism charges against Gendron, who apparently detailed his plans for the assault and his racist motivation in hundreds of pages of writings he posted online shortly before the shooting.
Security guard info: Aaron W. Salter Jr., 55, was a retired Buffalo police officer who was working as a security guard at the supermarket. He died in a gunfire exchange with Gendron. "Today is a shock. I'm pretty sure he saved some lives today. He's a hero," his son, Aaron Salter III, told The Daily Beast. 
Salter began working at the Tops Friendly Markets store as a security guard after serving three decades as an officer with the Buffalo Police Department, which he joined after graduating high school. According to his LinkedIn page, he launched a green energy company named AWS Hydrogen Technologies after retiring. He was working on a clean-energy car engine project.
On Sunday (May 15), the Buffalo Police Department released a list of the 10 victims killed in the mass shooting at Tops Friendly Markets. Three additional people suffered non-life threatening injuries.
He allegedly researched the local demographics and chose that supermarket to kill as many Black people as possible. Gendron shot 11 Black people and two white people in total on Saturday.
Citing an unnamed law enforcement official, the AP said a preliminary investigation found Gendron had repeatedly visited online sites that promoted white supremacist ideologies and race-based conspiracy theories.
"This kind of hatred, vitriol and violence will never be stamped out until we address the systemic and prevalent inequities and racism in this country," Little Rock, Arkansas Mayor Frank Scott Jr., who also serves as president of the African American Mayors Association, said in a statement to BET.com.
"America's Black mayors urge our fellow countrymen to speak out against anti-Black violence and stand with all affected communities," Scott said. "Our prayers go out to the affected families and the greater Buffalo community."
The victims ranged in age from a 20-year-old who survived a bullet through the neck and back, to the fatal shooting of an 86-year-old woman whose son is a retired Buffalo fire commissioner, the Buffalo News reports.