T.I. Says He's Got '2 or 3 More Albums Left'
Is the Atlanta veteran thinking retirement?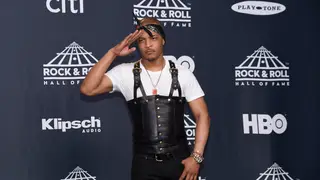 T.I. has been keeping busy following the release of his latest project, Us or Else.

While he previously has said that he is "late to the party" when it comes to "revolutionary art," it doesn't come as much of a surprise that he has shared in a recent interview that when it comes to thinking about his future, he's thinking big picture. 
During a recent conversation with the Associated Press, Tip shared that he is only planning on releasing a couple more albums before throwing his mic in the ring.
"I have 2 or 3 albums left in me," the veteran emcee shared. "It's definitely time to transition."
According to the report, the rapper already has the name figured out for his forthcoming projects, revealing they will be called Trap Music, Dope Boy Meets Girl and Kill the King.
Based off of those album titles alone, T.I. has our full confidence that these will be some of his strongest work yet. Not only that, but we trust he will bring his passion, personality and intelligence into whichever endeavor he pursues next in his career.
Take a look at T.I.'s new short film, Us or Else, here.