2023 NAACP Image Awards: 3 Unapologetically Black Girl Moments From Marsai Martin
The record-breaking actress is always a mood.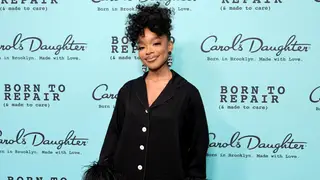 We're days away from the 2023 NAACP Image Awards, and you won't want to miss one of the biggest celebrations in Black Hollywood. Ahead of this year's event, which will take place live for the first time in three years on Saturday, February 25th, 2023, at 8:00 PM ET.
Ahead of this year's show, we're highlighting some of the biggest names set to attend the annual presentation, including our favorite rising actress and producer, Marsai Martin.
Fans grew to love her as Diane Johnson on ABC's hit series black-ish. Now the onscreen darling is taking her career to new heights and breaking records along the way, inspiring many. So in honor of her nomination for "Outstanding Supporting Actress in a Comedy Series" at this year's show, check out three unapologetically Black girl moments.
When she hilariously addressed trolls

Martin redirected online trolls' attention to topics more important after critics decided to take cheap shots at her appearance during her virtual presentation at the BET Awards in June 2020.

The actress later hopped on social media with a message to her haters. "Y'all, we're in quarantine, and we've got more things to focus on than just my hair," she said before pretending to cry and blow her nose on a $100 bill. "Justice for Breonna Taylor," she added.

When she shouted out Black girls while accepting an award

Martin was honored with the "Outstanding Supporting Actress in a Motion Picture" award during the 51st annual NAACP Image Award for her performance in Little. After thanking her supportive family and friends, and of course, her team, the young actress couldn't forget to acknowledge and thank "all the beautiful Black girls who inspire me everyday. Thank you."

When she reminded everybody of the importance of turning 18

Black people, especially Black women, are the driving force behind all things culture, and they're always doing their part to make the world we live in a better place. Upon turning 18, Martin took to her social media page, where she spoke about the importance of turning 18, which included being partially legal, getting a Costco card, and being able to vote and pick elected officials to help run our country.

Watch the NAACP Image Awards live on Saturday, February 25, 2023, at 8:00 pm ET/PT on BET.