R. Kelly Ordered To Pay Some Victims For Therapy And Herpes Treatment
He's required to pay at least $300,000 to a pair of his victims.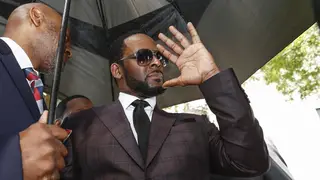 On the heels of singer R. Kelly being found guilty of child pornography charges in his federal trial in Chicago, the musician is now being required to pay at least $300,000 in restitution to some of his victims as ordered by District Judge Ann Donnelly on Wednesday, according to the New York Post.
The federal judge says the money will compensate two women, known as Jane and Stephanie, for the costs of therapy and STD treatment.
Donnelly denied the prosecutors' requests to compensate Jane for lost income as well as providing another victim named Sonja any compensation.
The R&B veteran has pending cases in Illinois and Minnesota, which could potentially increase the length of his already 30-year sentence.