Here's How Kim Is Helping Kanye Recover From His Mental Breakdown
Plus, why she's an "emotional wreck" herself.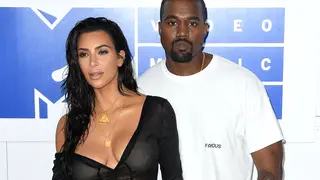 Khloé and Lamar, Kylie and Tyga and now Kim and Kanye, few can do ride-or-die like the Kardashian women. Say what you will about them, you can't deny that they stand by their men. 
After Kanye West suffered a psychiatric breakdown last week, reportedly due to a combination of factors including exhaustion, depression and paranoia, his wife, Kim Kardashian, rushed to his side and hasn't left it since. According to new reports, Kim is doing the absolute most to make sure her husband is comfortable and supported as he recovers — even at the expense of her own mental health.
"Kim has been amazing," the insider tells Us Weekly. "She knew he couldn't keep going the way he was. She has been by his side through all of this, helping to feed him and laying by his side."
The source adds, "All the Kardashian women stick by their men." 
Since Kanye was taken to the hospital last week, following a series of bizarre rants at his concerts and erratic behavior at the gym, Kim has been on top of managing his care. She even spent Thanksgiving in the hospital with him. "Kim wouldn't leave his side except to see the kids," the source adds. "She's been at the hospital all the time. Kim has been keeping a very close watch on him and not letting people disturb him. All kinds of people have called and sent flowers, but she's being very careful about not letting him get wound up and making sure he rests and recovers."
Interestingly, it was this time last year was when Khloé Kardashian's husband, Lamar Odom, was laid up in the hospital, fighting for his life. 
Another source tells TMZ that Kim has been an "emotional wreck" ever since her robbery in Paris last month, but that she put her own issues aside to stand by Kanye. "She has been an unbelievably devoted spouse. He's a lucky man," the source adds.
Yeezy is due to be released from the hospital today. Hopefully they both take some needed time off to help each other recover.
Get the back story on Kanye's condition with BET Breaks, above.