Sexxy Red Makes Several Appearances on Billboard and TikTok's Top 50 Songs Chart
The inaugural list captures the most-listened-to singles on the social media platform in the United States.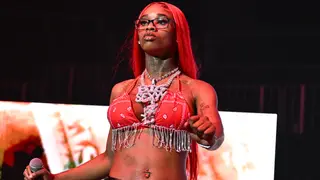 Sexyy Red's career is soaring to new heights, with the emerging star's viral single "Skeeyee" conquering TikTok and securing a top spot on Billboard's inaugural Top 50 Songs chart, which monitors the most-played singles on the short-form platform in the United States.
In fact, the St. Louis-born rapper makes several appearances on the first-of-its-kind roaster, coming in at No. 19 with "Looking for the Hoes (Ain't My Fault)," at No. 27 for "Face Down" with McVertt and Ferg and she closes the list at No. 50 with "Mad At Me." Grammy Award-winner Doja Cat secured the no. 2 with her single "Paint the Town Red," and at No. 3 is Taylor Swift with"August."
Chart entry is based on a number of factors, including video creations, views, and user engagement by the U.S. TikTok community. New reports will be released weekly on Thursdays.
The "Pound Town" rapper is making strides in other areas as well after earning a nomination for the "Best Breakthrough Hip Hop Artist" at the upcoming "BET Hip Hop Awards" 2023. The annual ceremony, hosted by rapper, actor, and executive producer Fat Joe, is premiering Tuesday, October 10, 2023, at 9 PM ET/PT on BET.