Sexyy Red Says She And Drake Have 'A Song Coming Out'
The news comes after she was pictured being kissed by the Toronto rapper.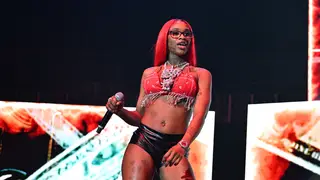 Sexyy Red made a lot of headlines recently after she was spotted with Drake in a photo that showed him kissing her. That, apparently, wasn't simply a break-the-internet moment.
During an interview with Nyla Symone, while at Rolling Loud Miami, the 25-year-old East St. Louis rapper said she and the Toronto rapper have a growing friendship and that "We got a song coming out."
According to Red, Drake sent her a song he was already working on and was impressed with her performance on it: "I did some lil s**t on his song, he sent me a beat, and I rapped for him or whatever. He was f****n with it, so we gon' see if he drop that b***h," she continued.
Also during the short interview, she noted that the pending track is "supposed to be" dropping. There's also no word on when exactly that would be.
Initially, Drake hooked up with Sexyy Red during one of the Brooklyn stops on his It's All A Blur Tour. What really got people's attention was Drizzy captioning one photo: "Just met my rightful wife @sexyyred."
"If my girl see ya'll backstage being thirsty it's gonna get smokey," he added in another post.