Phaedra Parks Breaks Her Silence About Getting Fired From 'Real Housewives of Atlanta'
She was reportedly given the ax last week.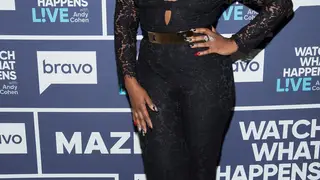 Did Phaedra Parks lose her peach? According to recent reports, the Real Housewives of Atlanta star was let go from the popular franchise for being too manipulative even for reality TV. 
Now, her camp has officially released a statement about the rumors.
According to Love B. Scott, "Everyone was given their renewal papers last week and Phaedra didn't get hers. She got caught in so many treacherous lies this season that even the producers (including Andy Cohen) have had enough. She even brought 'fake' divorce papers to the reunion to prove a point. No one knows whether she's telling the truth about anything anymore."
However, Team Phaedra has a different story to tell, using only one word: they say the rumors are simply "untrue."
With the show's epic reunion special just around the corner, we should find out the truth soon enough.
Get the low down on Phaedra allegedly being fired from the video above.