Watch: Chris Rock's Brother Destroys Steve Harvey in NSFW Rant
Tony Rock rips the talk show host.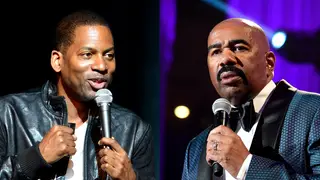 Steve Harvey is, today, considered the unofficial Black relationship guru as told through movies and his talk show, but many feel he is undeserving of this title, including some of his peers.
In fact, comedian Tony Rock clearly expressed his confusion as to why the Family Feud host gets praised for his perspective on love and relationships when his love life is anything but traditional.
In a video posted to Twitter, Rock held no punches while going in on the talk show host.
"Who the f**k puts Steve Harvey as the representative for all things Black?" he said in the video. "Steve Harvey is on his third marriage. His third wife was [the] mistress to his second wife. Yet, Black people have anointed this motherf**ker the oracle when it comes to Black dating. This n***a wrote a book on dating! You're on your third wife, homie!"
Get the latest on Steve Harvey in the video above.
Take a look at the hilarious video, below:

Meanwhile, the Twitter community has seemingly unanimously sided with Rock on this one: