You Won't Believe Why Lisa Raye Is Being Sued
A singer from Cameroon is making serious accusations.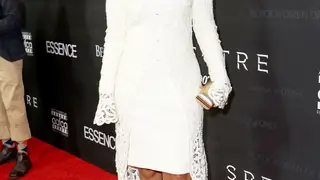 Lisa Raye McCoy has a problem on her hands. According to TMZ, the actress was just hit with a defamation lawsuit by Cameroonian pop singer Dencia after McCoy claimed her skin care product causes cancer and skin blotching.
Dencia, who is the owner of skin care company Whitenicious, has used the product for skin lightening purposes and showed before and after photos to prove that it works in that regard. The Single Ladies actress went on Big Tigger's radio show to promote her new film Skinned, which focuses on a Black woman who bleaches her skin to appear white. During the segment, she threw a bit of shade at the product.
"They use this cream like lotion all over their bodies to bleach their skin to become lighter," she said. "Now, what happens, though, their knuckles, their elbows stay the original color. So, now you're looking at them like, 'What did you do?'"
After hearing of McCoy's slander of the product, Dencia got her attorney on desk and fired off a demand for a retraction, claiming there is no proof Whitenicious causes cancer or creates dark spots.
Go backstage with this throwback of Lisa Raye on The Mo'Nique Show below:
(Photo: Rachel Murray/Getty Images for THAurban)