Blac Chyna Completed Court-Ordered Parent Education Course Amid Tyga Custody Dispute
She completed the "Our Children First" online course Nov. 1.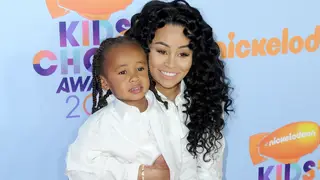 Blac Chyna has finished her court-ordered parenting class as part of her ongoing custody battle with ex-fiancé Tyga.
According to court documents obtained by Page Six on Wednesday morning (Nov. 8), the "Rob & Chyna" alum completed the online course "Our Children First" on Nov. 1.
According to the program description, parents are legally obligated to attend a mediation orientation/parent education program (Our Children First) and a mediation session before appearing at a Request for Order or trial regarding the custody and/or visitation of their children. Both parties in custody battles must complete the 60-minute mediation program before going to court.
The co-parents met on the set of his music video "Rack City" in 2011 and dated for three years. They had their son, King Cairo Stevenson, on Oct. 16, 2012. The couple broke up two years later.
Blac Chyna, whose legal name is Angela White, filed for child support and paternity in July 2022. In the filing, White requested joint custody and child support for their son. She asked the court to do what is in the best interest of the child.
As for her child support payment demands, the model stated in the filing, "The court may make orders for support of the children and issue an earnings assignment without further notice to either party."
The rapper responded by criticizing her for starting a legal battle after 10 years and telling her to "stick to your schedule." A month after White filed for joint custody, Tyga filed a response requesting sole custody of 10-year-old King. The rapper, whose real name is Michael Ray Stevenson, wants White to have "reasonable visitation rights" rather than joint custody.
The star of "Special Forces" disclosed in court documents filed in the fall that she started selling her possessions to "make ends meet" following a significant decline in her business sales.
White, who deactivated her OnlyFans in March, said her debts were increasing due to the legal dispute with her ex-partner. In an effort to alleviate her financial strain, she sought a payment of $125,000 from Tyga to cover her legal and accounting expenses.