Keke Palmer Steps Into a 'New Era' In Sexy Barbie-Inspired Mini Dress
The actress and new mom is showing off her curves.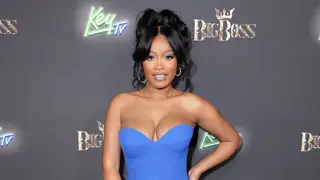 Keke Palmer is the latest celeb to put her twist on the new fashion trend known as "Barbiecore." The look is inspired by the upcoming movie Barbie where Margot Robbie plays a character based on the iconic doll and her signature bubblegum pink palette.
The 29-year-old actress posted a series of gorgeous pics in a tri-color ruched dress with a  plunging sweetheart neckline. A pair of bubblegum pink over-the-elbow opera gloves accented the pink, brown, and blue.
"Coming for everything I'm owed. #NewEra," she captioned the photo shoot shared to Instagram Wednesday (June 7).
The Baby, This is Keke Palmer podcaster added large rhinestone hoop earrings, futuristic-style sunglasses, and a studded purse that she used as props.
Palmer has previously shared that her body has changed shape since becoming a mother to son Leodis "Leo" Andrellton in March.  In an April 30 post, Palmer called Leo her "bbl doctor" adding, "because honey this body???! Don't talk to me. I'm different now! I's a woman hahahahahaha."
Palmer is currently promoting her new album Big Boss and its accompanying self-directed visual film on KeyTV.
While best known for acting, Palmer was signed to Atlantic Records at age 12 and released So Uncool in 2007. After some stalls in her music career, the Nope actress started her label, Big Bosses Entertainment, in 2018 and has been putting out her music—her way.
Palmer told People Magazine that her new project is a "testimony." She added, "I think everybody's going through something similar in whatever their respective job is, or even those of us that are actually also working in the music industry — not even just artists, but producers, writers or whatever."
Since giving birth in March, Palmer has embraced her changing body, saying, "There's always this thing of, 'How'd they do it?' And I think for me, the main thing I would say to any new mom is do what you can when you can, whatever it is that makes you feel good," Palmer told People in April about being expected to "bounce back."
"If it's important to you, then hell yeah put in the work, miss girl. Get you whatever diet you want to do or whatever workout regimen that works for you. And if that's not what you're worried about, then don't worry about it."