Jimmy Henchman Arrested by the FBI
The manhunt for the music exec ended Tuesday in New York City.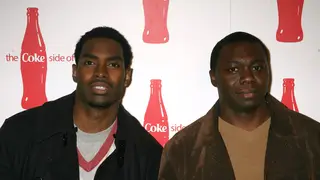 After a month-long search for music executive James "Jimmy Henchman" Rosemond, he was apprehended by U.S. Marshalls and DEA agents in Manhattan, New York Tuesday afternoon. The government had been searching for Rosemond since issuing a warrant for his arrest May 17 on suspicion of running a cocaine trafficking ring.
Rosemond noted federal agents as he left the W Hotel on Union Square and tried to get away on foot, but was captured and arrested on 21st Street and Park Avenue South. He was then arraigned in Brooklyn on conspiracy of distributing more than five kilograms of cocaine and is being held without bail.
"These charges obviously aren't surprising, we've been anticipating them for years now," his lawyer, Jeffrey Lichtman, told MTV News. "But they're built on the backs of people that have lied and cheated, have been threatened, have been bribed by the government. Anything to get Jimmy Rosemond, but all of this is going to be exposed. We've been waiting a long time for our day in court — we finally have it."
According to DEA documents, Rosemond allegedly shipped cocaine under accounts belonging to his Czar Entertainment management company from California to New York in cases typically used to transport musical equipment. Vacuum-sealed bags and mustard were supposedly also used to conceal the smell from drug-sniffing dogs.