Lil Durk Meets With Chicago Mayor Lori Lightfoot For Neighborhood Heroes Initiative
He's working to #PaveTheWay.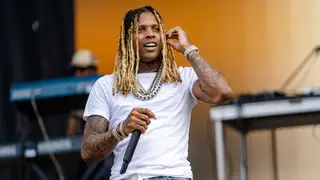 Lil Durk is trying to strengthen his local community while also expressing his concerns about it.
On Wednesday (February 15), the Chicago rapper took to his Instagram account with a message for everyone trying to contact him. According to Durk, he's been busy doing philanthropic work and focusing on being a hero to his community.
In his post, the "Broadway Girls" shared photos of a recent event called "Dinner with Durk" at Gibson's steakhouse in the Windy City. HipHopDX reports the event was organized through Durk's non-profit Neighborhood Heroes Foundation and had 30 high school students dining with five mayoral candidates to provide the city's youth a chance to speak on bettering their communities.
Durk is seen having a discussion with Chicago Mayor Lori Lightfoot in one of the pictures. "If I haven't been picking up my phone I been busy being a neighborhood hero! #PaveTheWay," Durk captioned the post.
Last May, Durk's Neighborhood Heroes Foundation partnered with the non-profit Chicago Votes to supply Illinois inmates and correctional facility workers with 29,000 of hand sanitizer to help the prison system's lack of access to clean water amid the COVID-19 crisis. Overall, his organization's goal is to make positive changes in under-resourced areas.
Additionally, the rapper launched an HBCU college program last year through his foundation, where he introduced students to different kinds of career paths.