Twitter Reacts to CeeLo Green Going Gold on the Grammys Red Carpet
His look definitely is an unforgettable one, to say the least.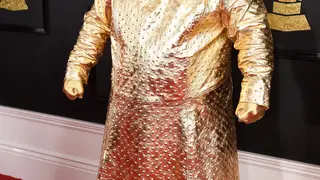 CeeLo Green, whether intentional or not, has become the (literal) gold star from tonight's red carpet at the 59th Grammy Awards (Feb. 12).
The Grammy Award-winning musician tremendously stood out from the crowd, straying very far from the black tie dress code we typically are treated to on the red carpet.
While at least one source has identified the inspiration behind Green's all-gold get-up, saying his look is for a new character he's going to be introducing, called "Gnarly Davidson," many have taken to Twitter to figure out what exactly CeeLo Green is thinking with this fashion statement.
Take a look at 15 different reactions from fans processing CeeLo Green's strikingly unique Grammy style below.
We have some questions.

This fan wasn't feeling the look.

This is an intense mash-up.

Here's one comparison...

... And another.

This is quite the theory.

He is looking mean.

LOL "TRACK 3."

Many are saying he looks like the Golden Snitch.

Never forget.

Maybe he's up to something.

Points for being extra.

He left Marie Claire speechless.

He left and arrived in style.

At least there's an endless possibility of memes.