Philadelphia Announces Creation Of A Reparations Task Force
The City Council introduced the legislation after consulting with the National Coalition of Blacks for Reparations in America in early June.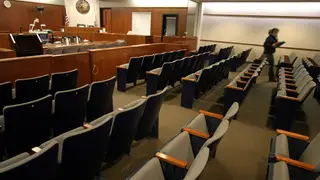 Philadelphia has become the latest city to announce the creation of a Reparations Task Force to examine if the descendants of enslaved Africans will receive compensation for the ongoing effects of slavery, reports The Philadelphia Tribune.
After several consultations with the Philadelphia chapter of the National Coalition of Blacks for Reparations in America (N'COBRA) and the community, Councilmembers Jamie Gauthier and Kendra Brooks introduced the measure in early June.
"We can trace a direct line between the institution of slavery and gun violence, poverty, gentrification, and many other crises that disproportionately impact the Black Philadelphian descendants of enslaved Africans," Gauthier said.
During the city council meeting on Thursday (June 22), Catherine Hicks, president of the local NAACP was among several speakers who voiced their support for the Task Force.
"Reparations in its simplest form are compensation for past crimes inflicted on a group of people," Hicks said. "In the case of African Americans, reparations would be a recognition of [the] people who faced enslavement, oppression, and discrimination that our ancestors endured in this country."
"The NAACP believes that reparations are not only necessary but are long overdue. The legacy of slavery and institutionalized racism continues to impact our community in profound ways. African Americans face higher rates of poverty, unemployment, and incarceration than any other group in this country," she continued.
Rob Buscher, an official of the Japanese American Citizens League which was formed in Philadelphia in 1947 by Japanese Americans who were incarcerated in mass concentration camps during World War II and were forcibly removed from the West Coast, also spoke in favor of the Task Force.
"JACL Philadelphia unequivocally supports the N'COBRA Philadelphia chapter in their efforts to establish a Reparations Task Force in the City of Philadelphia," Buscher said.
"We do not believe that any amount of reparation is capable of erasing the hard pain or trauma that persists for generations as a result of the enslavement of Africans, Jim Crow and other prejudicial regulation, disproportionate policing, and the many further inequities that African Americans continue to endure," Buscher said.
By approving the measure, Philadelphia joins other cities such as Detroit, Chicago, and states such as California and New Jersey which have similar commissions to explore what kind of economic considerations could be given to descendants of enslaved Africans.