Rep. Cori Bush Uses Juneteenth Holiday To Boost Reparations Legislation
"This is the moment to put it out and we needed something like this," Bush said about the bill.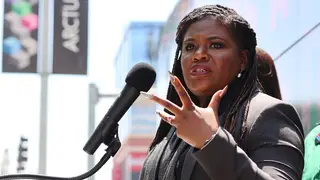 Bush stated that the timing is right for the federal government to enact legislation for reparations.
"This is the moment to put it out and we needed something like this," Bush said. "I feel it is the first of its kind on the Congressional Record."
"This country thrived and grew through the planting and harvesting of tobacco, sugar, rice, and cotton, all from chattel slavery, and that hasn't been compensated," she said.
Bush went on to cite scholars who estimate "the U.S. benefited from over 222 million hours of forced labor between 1619 and the end of slavery in 1865," which would equal $97 trillion today.
While the measure does not offer details on financial payoffs to the descendants of the enslaved but recommends that the U.S. pay $14 trillion "to eliminate the racial wealth gap that currently exists between Black and White Americans."
"Our mayor just put together a commission to be able to work on what reparations would look like for St. Louis," said Bush, who has the backing of nearly 300 grassroots organizations. "Because we're seeing it on the local level, that's where a big part of that push will come from, I believe."
The topic of reparations has been gaining momentum recently as cities and municipalities have enacted bills to make amends for the country's legacy of slavery and systemic racism. In January, Texas Rep. Sheila Jackson Lee and Sen. Cory Booker of New Jersey, reintroduced H.R. 40 and S.40, over 30 years since it was first introduced by the late Michigan Representative John Conyers. The bill would establish a federal commission to analyze and develop reparations proposals for African Americans.
According to a recent  Pew Research Center study, 48 percent of Democrats are in favor of some form of reparations to the descendants of enslaved people Black Americans, while 91 percent of Republicans are against the idea.
Dr. Rashawn Ray, a Senior Fellow at the Brookings Institution argues that the ownership of land should be an essential component of reparations paid out to African Americans.
"I think it is that land is central to this discussion because it comes down to 40 acres and a mule. We know that General Sherman signed Special Field Order No. 15 which said that Black Americans or formerly enslaved Black people, at the end of the Civil War would receive 40 acres and a mule, which never happened," Ray explained.
Bush, who spent two years working on a reparations bill, said that the measure has been one of her top priorities ever since she worked as a community activist in St. Louis.
"I remember being on the ground in Ferguson and feeling like, 'Hey, we're doing all of this on the ground but we don't have anybody in Congress that's like picking this up and running with it,'" she said. "We're making these soft pitches, and [there's] nobody to hit a home run. Well, that has changed. So now we're in a position to hit the ball."