Aza Comics Founder Jazmin Truesdale Is Leading the Charge for Female Representation in Sci-Fi
Her vision is to highlight women of all demographics as superheroes.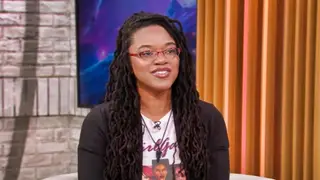 As a young girl, Jazmin Truesdale had a love for science fiction and action stories. But she never saw characters that looked like herself on store shelves.

For Truesdale, the only logical solution was to create an alternate creative world where she exists — as well as others seeking representation. And on Wednesday (July 19), Truesdale appeared on "CBS Mornings" to talk about founding Aza Comics in 2013 to address the lack of diversity represented within sci-fi storytelling.

Aza Comics is a sci-fi based conglomerate that focuses on women-led storylines. Truesdale serves as founder and CEO of the company — and even works as a writer for the company. 


In 2016, Truesdale released her debut comic book, The Keepers Origin, which features a group of women on a mission to save the world. The inspiration for the book was conceived during a night out with her friends. As she looked around at faces of people from Black, Latino, and South Asian descent, the light bulb went off for her to establish characters who mirrored her environment.
"If I want to see myself, I'm sure they want to see themselves," she said during her "Changing The Game" segment on "CBS Mornings."
While writing the book, she envisioned a core audience of busy women who love to read, but lacked the time to do so. With that concept in mind, she sparked an idea to create "not your traditional comic."

"It's a combination between a traditional book, but then the action scenes are illustrated like a comic book," Truesdale explained.
For Truesdale, she prides herself on writing storylines that are not fermented from antiquated themes. She strives to create characters that will resonate with readers and foster community.

"I write women from the female gaze. I talk to women and girls from different ages, asking them what they wanted to see, why they read comic books and why they didn't," she said.
"I write these real-world instances and how they would navigate them, and how we as women had wished we had navigated the thing we wish we said, or that thing we wished we did," she added "Even though they may be battling super villains, they're handling them in very real relatable ways that I hope inspire women to go for that dream or thing that they wished they could have done before."
Although Truesdale's work is available in more than 75 countries, she admitted that her path has had its challenges. "It is tough because the big two are Marvel and DC. So a lot of times, it's me getting rejected," she said.
Despite the rejection, Truesdale added that she has found camaraderie from men who are excited to support and share her work.

"Men have been super supportive from the very beginning," she said. "[They're] in the comments section, tagging the women and their wives."