Philadelphia Black Leaders Condemn Both Looting And Ruling In Eddie Irizarry Police Shooting Death
After the dismissal of charges against Officer Mark Dial for killing Irizarry, more than 60 people have been arrested on accusations of looting.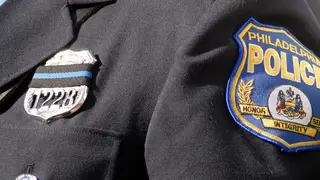 Black religious, political, and community leaders from across Philadelphia came together to denounce the dismissal of all charges against a police officer who killed Eddie Irizarry and the looting by city residents, the Philadelphia Tribune reports.
The organizations that were represented at the news conference on Thursday, September 28) included Black Clergy of Philadelphia and Vicinity, the Philadelphia NAACP, and the Philadelphia branch of the National Action Network. Also, Philadelphia Sheriff Rochelle Bilal and State Senator Sharif Street. Bilal were in attendance.
The leadership contingent expressed their frustrations with Judge Wendy Pew who ruled that Police Officer Mark Dial in the shooting death of Eddie Irizarry, which took place in August. Also, the group condemned the looting by residents as an improper response to the ruling.
Rev. Robert Collier Sr., president of the Black clergy argued that the judge's decision "sends a message to the greater community and all citizens in Philadelphia that police officers can take someone's life and then not have to be held accountable for it."
"We cannot possibly believe that anyone with any small amount of intelligence could possibly think that looting a neighborhood store is going to bring about change in a decision made by a magistrate," Collier added. "We have the right to demonstrate peacefully. You don't have the right to loot someone's grocery store. I don't care who the people look like. Injustice cannot be eradicated this way."
Bilal stated that the parents have to be aware of the children's whereabouts so they will not participate in these kinds of incidents.
"I want to know when it comes to parents," Bilal said. "That's the part you really need to get into. I want to know where their parents are because kids shouldn't be out there at night time. You are in the city and put yourself at risk—now your parents have to come get your little butts out of jail."
"We need to get out an old-fashioned belt," Bilal continued.
"Just because one judge dismissed charges in a manner that we do not agree that does not mean the process is over. That's why there's an appeal process," Street explained.
The senator also said that Dial may still face punishment for his involvement in Irizarry's death.
"The ability of the legal system to still hold accountable those responsible still exists," Street said.
Catherine Hicks, President of the Philadelphia NAACP, urged  Black and Latino residents "to vote for judges who care about them" which could spawn reforms in the police department.
"Some of the judges are up for retention and we don't want the ones that don't have our best interests in mind," Hicks said. "We have to make sure they don't get the opportunity to return."
On Tuesday (September 26), more than 60 people were arrested on accusations of looting including Dayjia "Meatball" Blackwell, a popular social media personality who was charged with six felony charges and two misdemeanors for sharing the footage of the thefts on her Instagram Stories and her TikTok account.
After her being released from jail on bond, Blackwell expressed her regret that she involved herself in the looting.
"I'd just prefer, you know, never loot again, stay out of trouble, never go to jail," Blackwell said.
"I've never been through nothing [sic] like that in my life," she continued. "I don't even know what happened like I need some sleep. I'm scared, I'm traumatized. Never again in my life, like seriously."