Watch 3-Year-Old Heiress Harris Rehearse An Adorable Commercial For Her Very Own Nail Polish Line
We stan!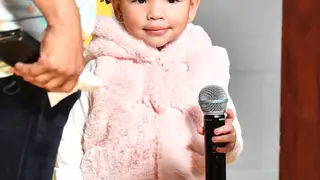 Not only is T.I. and Tiny's baby girl, Heiress Harris, completely adorable, she's also proving age is nothing but a number when it comes to collecting coins!
Recently, Heiress took to the 'gram to give her fans a glimpse of her latest collection of nail polish produced by Piggy Paint, and we are in awe!
Get ready for some serious cuteness overload as the budding entrepreneur shows off polishes from the "Royal Collection":
"My name is Heiress Harris and I want to tell you about my fingernail polish," the 3-year-old said into the microphone.
Dressed in a stylish Burberry dress, Heiress goes on to promote the six colors of her Royal Collection, which include Blueberry Muffin, Banana Split and Grape Jelly ($8). 
After running off her colors accurately and in the cutest way, the tiny tot looked at the camera with pride and announced, "I did it. I just told everyone about my nail polish." 
According to the website, Piggy Paint was created safe for kids and boasts of being a non-toxic, water-based polish that doesn't wash or peel off. It is virtually odorless, free of ALL harsh chemicals, and made in the USA.
Like icing on the cake, Heiress' older brother, Major, then explains to her that she just completed a blog. Although not sure what that is, the little girl boss seems to be very happy with the outcome. 
How cute! We're rooting for you, Heiress Diana!