Niecy Nash Gets Emotional Talking About Her Son And George Floyd's Police Killing
The stars from 'Reno 911' show are stepping up with a sizable donation to the Floyd family.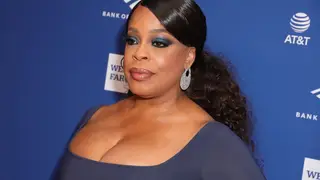 The country has been outraged in the wake of the brutal killing of 46-year-old George Floyd in Minneapolis, Minnesota. 
Now, the cast of Niecey Nash's Reno 911 are stepping up to help.
Niecy Nash revealed on Good Morning America today (May 29) that the cast is donating $10,000 to the family of George Floyd, an idea that was spearheaded by her co-star Cedric Yarbrough, who hails from Minneapolis. 
Nash told GMA, "As you know, our cast of Reno 911, we play bumbling cops on TV but in real life this is no laughing matter to any of us. I'm the mother of a Black son and I'm devastated."
RELATED: George Floyd's Death Sparks Viral Song For Change By 12-Year-Old
She continued, "Our entire cast is brokenhearted about the passing of George Floyd and prayerfully this donation will be a small step towards healing for his family."
Watch the clip of Niecy Nash below on Good Morning America:

On May 25, Minneapolis resident George Floyd died after a police officer held his knee to his neck for over five minutes. The fatal encounter was also caught on video and immediately went viral on social media. He was only 46 years old.

Minneapolis Mayor Jacob Frey called for criminal charges against Derek Chauvin, the police officer seen on video pinning Floyd under his knee until he lost consciousness and died. Chauvin, along with officers Thomas Lane, Tou Thao and J Alexander Kueng, were all fired Wednesday (May 28). 

Chauvin, 44, was a 19-year veteran of the Minneapolis police force and had been the subject of at least a dozen complaints, but was never disciplined, NBC News reported. Thao and another officer, Robert Thunder, were reportedly sued in 2017 for excessive use of force. That case was settled for $25,000, according to the Star-Tribune. Kueng, and Lane have had no reported disciplinary actions taken against them prior to Floyd's death.
Created by Floyd's brother, Philonise Floyd, a GoFundMe has received more than 72,000 donations totaling to $1.7 million as of Friday morning (May 29).