Angel Gregorio Celebrates Black Women Entrepreneurs By Opening One-Of-A-Kind 'Strip Mall' In Washington D.C.
The owner of The Spice Suite found commercial space that could give other small business owners, like herself, their first, big break.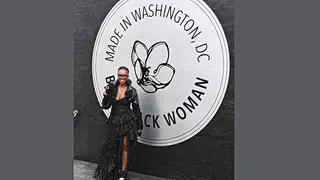 Entrepreneur Angel Gregorio had an idea that would bring both good food and great people together all within a business model that could also cater to uplifting Black entrepreneurs. Gregorio, a D.C. native, and Howard University alum, is the curator and creator of The Spice Suite, a retail shop located in Washington, D.C. that sells exotic spices and kitchenware using the motto "food is fashion."
The 37-year-old mother, home cook, and activist admits that the idea of running this brand did not begin from a long-term vision of selling homemade spices.
"It was the most serendipitous thing ever. I literally was walking past a For Lease sign and decided to call and see what the rent would be," said Gregorio, who started her career in the education sector serving as an assistant principal before launching her company. "I asked the landlord, and he wouldn't tell me the price until I told him what I would do with the space."
At the time, Gregorio had no idea what she wanted to do with the Takoma neighborhood space but knew she was inspired to help give back to her community.
"On a whim, I just said, 'Spices! Can you tell me the price?' And it stuck," Gregorio recalled from that conversation that occurred nearly eight years ago.
In 2015, spices became the theme of Gregorio's operation, but today, she has developed her business into a broader vision by developing an incubator program and haven for other Black women entrepreneurs, who she calls "Spice Girls" as part of The Spice Suite.
"Spice Girls are this collective of Black women who have products that are handmade or uniquely sourced. They have a regularly recurring pop-up slot at my store where they sell their products, and in exchange, they run my shop for me," Gregorio stated. To date, she has featured over 2,500 pop-ups led by 450 Black-owned business owners in her retail space.
In 2018, The Spice Suite was named D.C.'s Small Business of the Year by Congresswoman Eleanor Holmes Norton. Two years later, in 2020, The Spice Suite clocked $1.5 million in revenue. It was a million dollars more than in the previous year, according to Forbes.
In addition to Gregorio's culinary talent (she landed a spot in the top 40 during season 8 of MasterChef's), she has found a way to expand on the unique business relationship she has grown with her Spice Girls.
"Spice Girls are a part of my motto of going Black and forth or back and forth," Gregorio stated, which is how she thought of her latest community based endeavor, Black and Forth, "The idea of going back and forth with Black people and Black-owned businesses. For me, that means recreating this idea of Black Wall Street on a smaller scale," she added.
On Jan. 13, D.C.'s Mayor Muriel Bowser and other state officials were on hand to celebrate the ribbon cutting of Black and Forth's new home in D.C.'s Langdon neighborhood. Gregorio has transformed a block of commercial space that will be used to house five Black, female-owned small businesses, including The Spice Suite, She Nailed It (nail salon), IRG Beauty (hair salon), PRMP Beauty (brow bar), and The Braid Bar 202 (braid bar.)
The acquisition was made possible with the launch of Mayor Bowser's Commercial Property Acquisition Fund in 2022 as part of a larger initiative to keep longtime residents and businesses in D.C. who are economically disadvantaged or have been subjected to cultural bias.
While Gregorio states economic freedom is always the goal, she has not envisioned any plans as of yet to sell or expand her business model outside of the D.C. area in the near future. Instead, she wants to keep focusing on blessing others in her community, which she says, in turn, has helped her thrive in her own business ventures.
"It is literally like this old African proverb, 'Lifting as we climb.' Understanding that this isn't just some theoretical thing, but it's a necessity," Gregorio said. "We spend a lot of time speaking about affordable housing but not enough time talking about affordable commercial space. The same with farmers, we spend a lot of time talking about sustainable food and produce and growing our own. Not all of us are going to have the space and capacity to grow our own food, but we do have the capacity to support those who do. I'm just creating the space and opportunity for us to be in the same space."