Nikole Hannah Jones: Lawyers for '1619 Project' Creator Explore Discrimination Lawsuit
A letter was issued to the University of North Carolina on May 27 with record-retention notice.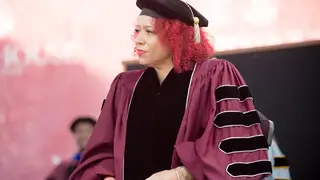 Lawyers for Pulitzer Prize-winning creator of the 1619 Project, Nikole Hannah-Jones, have notified the University of North Carolina that a potential discrimination lawsuit could soon be filed in responses to its decision to deny her tenure.
The Hill reports that attorney's for Hannah-Jones, issued a letter on Thursday (May 27) with a record-retention notice attached. 
"UNC has unlawfully discriminated against Ms. Hannah-Jones based on the content of her journalism and scholarship and because of her race," NAACP Legal Defense Fund attorneys said in a statement. "We will fight to ensure that her rights are vindicated."
In April, UNC announced that Hannah-Jones would join UNC's Knight Chair in Race and Investigative Journalism at the Hussman School of Journalism and Media.
The conflict between both parties started in early May when the school's Board of Trustees allegedly demoted a job offer to Hannah-Jones after there were reported outside influences from conservatives. The board, however, refused to offer her tenure, although it had been awarded to prior job candidates for the same role. 
Instead, a five-year contract with an option to review tenure was extended to Hannah-Jones, the news outlet notes. 
In 2003, she earned a master's degree from UNC's Hussman School of Media and Journalism. And in 2019, Hannah-Jones lead a immersive multimedia exploration of U.S. history and race relations called the 1619 Project for The New York Times as it sought to "reframe the country's history by placing the consequences of slavery and the contributions of Black Americans at the very center of our national narrative." 
Hannah-Jones attorneys allege that the UNC Board of Trustees' failure to not only consider but approve her tenure application is discriminatory.  
"All previous UNC Knight Chairs have received tenure in conjunction with their appointments, and Ms. Hannah-Jones's credentials not only match but exceed those of prior UNC Knight Chairs," NAACP LDF said.