Missouri GOP Lawmaker Creates Abortion Bill Requiring Father's Consent
State Representative Rick Brattin says "legitimate rape" and incest would be the only exceptions.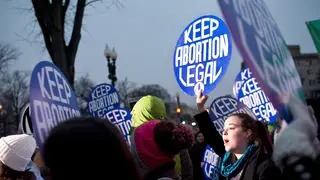 A Missouri Republican lawmaker introduced a bill that would require women seeking an abortion to obtain written and notarized permission from the father before a doctor can perform the procedure, The Guardian reports.

"With the women's movement for equal rights, well it's swung so far we have now taken away the man's right and the say in their child's life," the bill's creator, Rep. Rick Brattin, recently told KHSB. "Right now, the way it is, the woman gets the full say and the father gets no say, and I think that that needs to change." Brattin cited "legitimate rape" and incest as the only exceptions.
"Just like any rape, you have to report it, and you have to prove it," the state representative told Mother Jones. "So you couldn't just go and say, 'Oh yeah, I was raped' and get an abortion. It has to be a legitimate rape."
Though the bill is not currently scheduled for a vote, reproductive rights advocates have launched a national campaign condemning the proposed law.
"For representative Brattin to talk about legitimate rape once again, it is a slap in the face to women because it implies that women don't tell the truth about these horrendous acts of violence," Paula Gianino, president and CEO of the St. Louis Planned Parenthood, told The Guardian. "I think he should be sanctioned by his party and the legislature in total for making these statements."
The St. Louis clinic is the only abortion provider in the state. This past October, Missouri became the third state — after Utah and South Dakota — to require a 72-hour waiting period for abortions.
BET Health News - We go beyond the music and entertainment world to bring you important medical information and health-related tips of special relevance to Blacks in the U.S. and around the world. Click here to subscribe to our newsletter. 

(Photo: Brendan Hoffman/Getty Images)