Ten Must-See Releases At The Tribeca Film Festival
BET+'s 'Diarra From Detroit' is just one of the many releases from Tribeca's 'Expressions of Black Freedom' programming.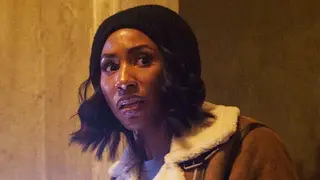 The Expressions of Black Freedom program at the Tribeca Film Festival aims to amplify Black creatives' voices, stories, and artistic expressions. Through a captivating collection of films, documentaries, panel discussions, and interactive experiences, this year's program should not be missed. From retrospective features to world premieres, here are ten must-sees at New York's famed Tribeca Film Festival.
How Stella Got Her Grove Back

The festival will be revisiting this classic starring the legendary Angela Bassett as a woman who falls in love with a man 20 years her junior in Jamaica. After the movie, a panel will take place with director Kevin Rodney Sullivan and Bassett.

All Up In The Biz

This doc follows the life of New York native Biz Markie, who passed away in 2021. Best known for his 1989 Top 40 hit "Just a Friend", Markie was a rapper, beatboxer, songwriter, and producer who was fondly referred to as the clown prince of hip-hop. 

Gloria Gaynor: I Will Survive

Gloria Gaynor is known for 1978 disco classic "I Will Survive." However, in the four decades since, her career has been stalled by health issues, as well as abuse and mismanagement from her now ex-husband. Gloria Gaynor: I Will Survive will be premiered for this first time at the Tribeca Film Festival and will include a live performance from Gaynor.

Cinnamon

This movie follows aspiring singer Jodi Jackson (Tony nominee Hailey Kilgore) who has a big voice and dreams to match but struggles to make ends meet as a gas station attendant whose boss (Damon Wayans) may not be legit. A must-see at the festival, especially with Pam Grier in the cast!

For Khadija

For Khadija is a doc that tells the rags-to-riches story of French Montana. The Moroccan-born and New York-bred multi-platinum artist gives us a deeper look through his lens with the film that is named after his mother, Khadija.

Invisible Beauty

Invisible Beauty is a powerful documentary about fashion world titan Bethann Hardison. Featuring in-depth interviews with Hardison, the film is an elegant account of the model-turned-fashion industry insider's life and career, culminating in her tireless advocacy for more diversity both on the runway and off.

New Jack City

The Tribeca Film Festival is revisiting New Jack City, which starred Wesley Snipes as Nino Brown. A panel after the film will include director Mario Van Peebles and hip hop legend Fab 5 Freddy.

The Blackening

Directed by Tim Story, this comedy-horror film is making it's debut at Tribeca on June 13. The cast includes Grace Byers, Jermaine Fowler, Jay Pharoah, and Yvonne Orji of Insecure fame. A unique take on horror from a Black perspective, The Blackening was also hit theaters June 16.

Wild Style

Wild Style is a classic hip hop movie from 1982. Directed, written and produced by Charlie Ahearn, Wild Style tells the story of Zoro, played by the graffiti legend Lee Quiñones, in his subway art romance with the graffiti queen Sandra "Lady Pink" Fabara. Fab Five Freddy also stars as the smooth impresario Phade. This retrospective feature will include a panel with Ahearn, Quiñones and Fab 5 Freddy.

Diarra From Detroit

BET+ has ordered eight episodes of the straight-to-series project, which will premiere late this year but you can get your first look at the Tribeca Film Festival on June 14.