Mother Forces 12-Year-Old Son Out Of Car On The Side Of The Road And Abandons Nine Other Children In Freezing Weather
Sheri Marshall's kids said she'd behaved very strange for several days leading up the traumatic incident.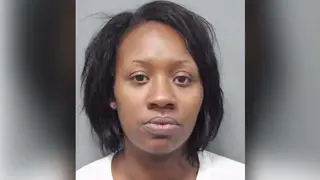 A Maryland woman has been charged with child neglect after forcing her 12-year-old son out of a vehicle onto the side of the road and later abandoning nine other children in freezing weather. 
Sheri Marshall, 36, was driving 10 of her 13 children to a grandmother's house in Dec. 2016 when she began arguing with her 12-year-old and she allegedly kicked him out of her minivan. She then continued driving down the beltway in Greenbelt, Maryland, until the vehicle ran out of gas. Marshall and her nine children then stayed in the van for 36 hours, even though the weather dropped to temperature in the mid-twenties, reported WJLA.
On the second morning of sleeping in the van, the children awoke to find their mother was no longer with them. The siblings then found loose change in the car and walked together to a gas station to buy food and supplies.
Later that same day, the children — between the ages of one and eleven — ran out of food and money. They walked to La Chiquita Restaurant, where the staff at the restaurant fed the children and called 911. A few of the younger kids had soiled their pants and diapers.
When the police questioned the children, the kids said their mother was "acting strangely" lately and would take them on walks around 4 a.m. every night.
Officers later found Marshall stumbling aimlessly down the street. When police approached her, she was non-verbal, had urinated on herself and was "unaware of her surroundings," according to a police report. She was taken to Washington Adventist Hospital for evaluation. Medical staff determined the 36-year-old had a high level of illegal drugs in her system, court documents add.
It is unknown how the 12-year-old child who was forced out of the car was found.
Takoma Park Police say it took 10 months to file criminal charges because interviewing the 10 young children was a complex and arduous process. Investigators believe the heavy drug use was the primary contributing factor in Marshall's episode.
Although Child Protective Services was called to investigate, police say all 10 siblings are currently living with relatives and doing well. Marshall is fighting to re-gain custody.
Marshall is facing 18 criminal counts of child neglect relating to the minivan incident.