Kandi Burruss Wants Her Stepdaughter To Move Out To Make Room For Her Newborn
The "Real Housewives of Atlanta" star will be welcoming a new child via surrogate.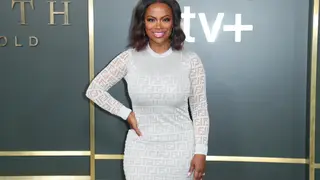 Kandi Burruss is gearing up to welcome a new baby via surrogate, and the reality star already has plans to rearrange her family's living situation to accommodate their new addition.
According to Ace Showbiz, the Real Housewives of Atlanta OG has asked that her husband Todd Tucker's 23-year-old daughter, Kaela, vacate her bedroom inside their family home so that the space can be ready for their unborn child.
"I don't want Kaela to feel like we're putting her out of her room, but Kaela's a little grown," she told Todd in a clip from last week's episode of the Bravo series.
Her husband explained that he had no issue with her request since Kaela had already previously revealed her plans to move to New York to open her own clothing store.
The couple shares a 3-year-old son, Ace, and each have daughters from previous relationships: Riley Burruss, 17 (Kandi's daughter), and Kaela Tucker, 23 (Todd's daughter).