Economist Dr. Lisa Cook Is the First Black Woman to Serve on the U.S. Federal Reserve Board
Dr. Cook is the latest Black woman nominated by President Joe Biden to a position making her the first to serve on a federal body.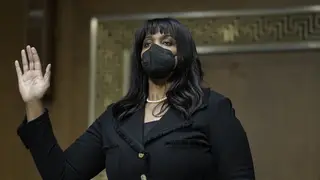 Michigan State University economics professor, Dr. Lisa Cook is the most recent Biden administration nominee to become the first Black woman to serve in a federal capacity.  The economic policy expert and economist will take her place on the U.S. Federal Reserve Board.
Cook, well-known for her work on racial and gender equality, won Senate confirmation as the first Black woman to serve on the Fed's board in the agency's 109-year history. In her career, she has taught at Harvard, Stanford and advised the governments of Nigeria and Rwanda on their banking and macroeconomic reforms.
Despite her education, experience and a bipartisan slate of supporters who encouraged the Senate to uphold her nomination, each of the Senate's 50 GOP members voted against Cook. All 50 Democrats and Harris cast ballots in favor of the nomination. The historic nomination required a tie-breaking vote in the Senate from Vice President Kamala Harris.
An adviser on the Biden-Harris and Obama-Biden transition teams, Cook will help set fiscal policy on the Fed's board. Her research and writings include economic development, innovation, financial institutions and markets, and economic history.  Cook has studied and written about how Jim Crow laws and segregation affected the long-term growth of the U.S. economy.
CNBC quotes Sen. Raphael Warnock of Georgia as saying, "I was proud to cast my vote for Dr. Cook. Her decades of experience as an economist and her Georgian sense of fairness will help promote balance and innovation to strengthen our economy."
Dr. Cook's extensive work with the Federal Reserve system includes presenting at the  Federal Reserve's invitation-only annual Jackson Hole monetary policy conference; serving as a fellow at the New York Fed, and also serving as a visiting scholar at the  Chicago, Minneapolis and Philadelphia Federal Reserve banks. Major banks in the  Midwest, each with assets of more than $460 million or greater, elected Dr. Cook to the  nine-member Board of the Federal Reserve Bank of Chicago.
Dr. Cook is one of a handful  of leading macroeconomists advising the leadership of two Federal Reserve Banks, through the Academic Advisory Council of the Federal Reserve Bank of Chicago and the  Advisory Board of the Opportunity and Growth Institute at the Federal Reserve Bank of  Minneapolis.