The Biological Mother of Angelina Jolie's Daughter Zahara Speaks Out on Horrific Adoption
Mentewab Dawit Lebiso desperately wants to talk to her child.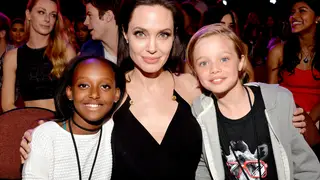 More drama for Angelina.
The Oscar winner adopted her now 12-year-old daughter, Zahara, from Ethiopia after her biological mother, Mentewab Dawit Lebiso, was forced to give her up after being raped, resulting in Zahara's birth. Now, a poverty-stricken Mentewab is begging the A-list actress to let her speak with her daughter.
Mentewab told the Daily Mail that she is desperate to be a part of Zahara's life and wants to have a conversation with her.
"Please just let me talk to my daughter," she pleaded. "I just want her to know that I am alive and here and long to be able to speak with her."
Though she wants to be a part of the tween's life, she is not asking to have her back in her care. In fact, she wants Jolie to get full custody of Zahara in her split with her soon-to-be ex-husband, Brad Pitt.
"I do not want my daughter back but just to be in contact with her and be able to call her up and talk with her," she said.
Mentewab even praises the amazing job the Hollywood couple has done with her little girl, admitting that they have given her everything she couldn't: "Angelina has been more of a mother to her than I have ever been," she said. "She has been with her since she was a baby, but that does not mean I do not miss her."
Jolie was told while adopting Zahara in 2005 that she was orphaned and lost her parents through AIDs. She was allegedly unaware that her mother was still alive.
Mentewab says she hasn't received a card, letter or any for of communication from Jolie since her daughter was adopted.
"I would like Zahara to know she has a mother who loves her as much as Angelina," she said. "We all die sometime and before I die, I would like her to know about me and that she has family here in Ethiopia... I would ask Angelina to let me speak with her. I do not think it is too much to ask."
Get the latest on Angelina Jolie and Brad Pitt's relationship in the BET Breaks video, above.
BET.com is your No. 1 source for Black celebrity news, photos, exclusive videos and all the latest in the world of hip hop and R&B music.