Rep. John Lewis Writes Parting Message, Urging People To Carry The Torch Forward
The Civil Rights icon left his final marching orders in moving op-ed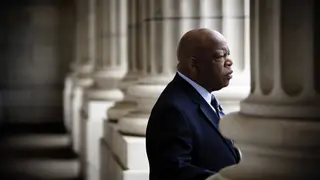 Rep. John Lewis, knowing that the sunset of his life was approaching, left a parting message encouraging the next generation to take up the torch for human rights in an moving op-ed published Thursday (July 30) in The New York Times.
In the essay, the civil rights legend who died of pancreatic cancer at age 80 on July 17, reflected on the transformative events of his life that inspired him to act so fearlessly. Those events eventually led to him being a part of the Student Non-Violent Coordinating Committee and the voting rights marches in Selma, Ala., across the Edmund Pettus Bridge.
He compared Emmitt Till, whose death became a catalyst for the Civil Rights Movement, to George Floyd, Sandra Bland, Breonna Taylor and Rayshard Brooks. Fear, he said, constrained many in those days.
"He was 14 when he was killed, and I was only 15 years old at the time. I will never ever forget the moment when it became so clear that he could easily have been me," Lewis wrote. "In those days, fear constrained us like an imaginary prison, and troubling thoughts of potential brutality committed for no understandable reason were the bars."
He also charged the current generation to continue to build upon the foundation Rev. Martin Luther King Jr., laid out to transform America.
"He said we are all complicit when we tolerate injustice. He said it is not enough to say it will get better by and by," wrote Lewis. "He said each of us has a moral obligation to stand up, speak up and speak out. When you see something that is not right, you must say something. You must do something. Democracy is not a state. It is an act, and each generation must do its part to help build what we called the Beloved Community, a nation and world society at peace with itself."
He continues: "Ordinary people with extraordinary vision can redeem the soul of America by getting in what I call good trouble, necessary trouble. Voting and participating in the democratic process are key. The vote is the most powerful nonviolent change agent you have in a democratic society." 
Lewis funeral was to be held Thursday at Ebenezer Baptist Church in Atlanta at 11 a.m.. He will be eulogized by former president Barack Obama, who awarded him the Presidential Medal of Freedom in 2011.