Kerry Washington Remains Tight-Lipped About Wedding Details
Plus, an Olivia Pope fashion line might be in the works.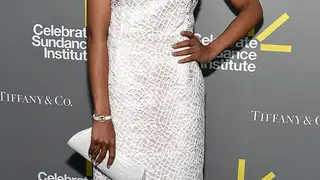 Kerry Washington is determined to keep her personal life private. The Scandal actress shocked us all when her secret marriage to NFL player Nnamdi Asomugha last month became public, and now that we know that she got hitched, she's not keen on hashing out the details.
"I don't talk about my personal life in the press, but I will say I'm really happy," she told People magazine. "I'm blessed in all areas of my life."
Blessed, indeed. The starlet has just received her first Emmy nomination for her work on the popular ABC drama. In addition, the Scandal costume designer who's in charge of making sure Washington's character looks on point episode after episode said that an Olivia Pope-inspired fashion line is being considered.
"We've been talking about how we could create something aspirational for the audience – like, something that Olivia Pope might wear – but not so aspirational that it was out of reach for most of our gladiators," Lyn Paolo told Fashionista.com.
Paolo also explained why Pope's wardrobe is filled with white ensembles and light colors.
"It started out as being just a visual thing and evolved into being something about femininity. You can be strong and amazing at your job – but why do we have to dress like men? Kerry and I talked a lot about that in our fittings. We didn't want her to dress like a man, but we also wanted her to wear the pants – she wears pants," Paolo said. "She doesn't wear a skirt unless it's in a flashback because I just thought that was too on the nose and kind of boring. ...She wears structure, but the fabrics always have an amazing drape to them, which is why we used a lot of Armani in the beginning, because you can't really beat those Italian fabrics for movement."
 Would you grab a piece or two from the Olivia Pope collection?
BET.com always gives you the latest fashion and beauty trends, tips and news. We are committed to bringing you the best of Black lifestyle and celebrity culture. 
Click here to subscribe to our newsletter.

 (Photo: Frazer Harrison/Getty Images)