People Are Calling Judge Neil Gorsuch's Supreme Court Confirmation an 'Illegitimate' Appointment by an 'Illegitimate President'
Many fear he will push the SCOTUS to the far-right.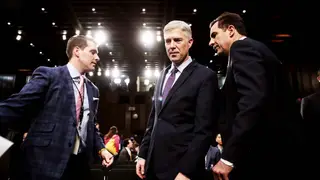 After Senator Mitch McConnell used the "nuclear option" to change the rules of voting for Supreme Court justices, Judge Neil Gorsuch was confirmed as the 113th justice of the Supreme Court of the United States on Friday. Gorsuch was confirmed on a 54-45 vote.
Prior to his confirmation, Gorsuch and his nomination were met with national contention. When Antonin Scalia died, President Obama used his executive power to nominate Judge Merrick Garland, a candidate whom both parties once supported.
However, Senate Majority Leader Mitch McConnell made it very clear Garland would not receive any confirmation hearings and the next president should be in charge of choosing the Supreme Court Justice.
In March, the Senate Judiciary Committee held 20 hours of questioning Gorsuch's nomination. On Thursday, Democrats — who felt this seat had been stolen from Obama and Garland — filibustered the nomination. This led McConnell to change the rule of the Senate requiring 60 votes to confirm a justice.
For Gorsuch, a simple Senate majority was necessary for him to be confirmed.
The confirmation of Judge Gorsuch has received tremendous backlash on twitter

Many called this confirmation 'illegitimate'

The division between the parties seemingly grew as a result of the GOP's method to confirm Gorsuch