Former UCLA Basketball Player Posts Heartbreaking Goodbye Video Before Taking His Own Life
Billy Knight's death occurred just one day after Tyler Honeycutt was found with an apparent self-inflicted gunshot wound.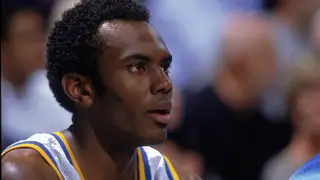 A former UCLA basketball player was found dead in Phoenix on Sunday and police believe the cause of death may have been suicide.
Billy Knight, 39, posted a chilling goodbye video the night before Phoenix authorities found his body on a roadway. While there was no evidence of foul play, the Maricopa County Medical Examiner's Office ruled Knight's death a suicide by "multiple blunt force injuries," reported ESPN.com.
In an emotional video titled "I am Sorry Lord," Knight detailed the distress he felt before his death.
"I am lost in life and I feel like there is no hope... I just feel like I can't continue on."
Knight said he felt like he didn't know where he fit in life and that his time existing on earth was over.
"I felt like I didn't belong here on earth. My time is up," Knight said. "I will take my chances. I will be in Heaven or Hell."
Knight, 39, was a guard/forward at UCLA from 1998-2002, averaging 14.1 points and 3.5 rebounds per game as a senior.
When he wasn't picked in the 2002 NBA draft, Knight played professionally in France and Japan.
Knight's body was found just one day after 27-year-old Tyler Honeycutt died from an apparent self-inflicted gunshot wound during a standoff with police on Friday.
If you or someone you know is suffering from depression call the National Suicide Prevention Lifeline at 1-800-273-8255.