Guess Which Celeb Guests Got A $50,000 Invitation To Gucci Mane's Wedding
This is going to be one star-studded event.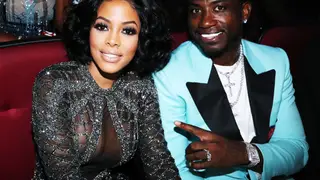 Gucci Mane's wedding with Keyshia Ka'oir is right around the corner, but there is no wedding without witnesses. The wedding invitation for the big day is reportedly ready to go out, and the guest list is apparently loaded with a number of A-list artists.
There are reportedly 100 people invited to attend the nuptial ceremony. Drake, Rihanna, Migos, Pharrell Williams, Diddy, Rick Ross, Solange and more have reportedly been sent invites, according TMZ. Artists like Drake and Migos have previously collaborated with Guwop on hit tracks, while others are probably just friends of the happy couple.
As far as what the guests can expect in the mail, the physical invitation is a plated mirror booklet adorned with Swarovski crystals and a "KR" nametag, which stands for Keyshia and Radric (Gucci's government name). And according to reports, the lot of invitations put a $50,000 dent in the wedding budget.
Earlier this summer, it was confirmed that BET would be filming Keyshia and Gucci's million-dollar wedding for an exclusive TV special, entitled The Mane Event. The documentary-style special, will chronicle the events leading up to the wedding and the actual event.
Be sure to catch every moment of Mr. and Mrs. Guwop's wedding on The Mane Event, which premieres Oct. 17, at 10/9p.m. C on BET.