Cardi B Launches 'Centerfold' Project As First Move As Playboy Creative Director
Cardi B is Playboy's first-ever creative director in residence.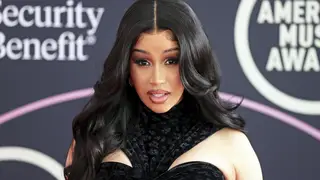 Cardi B's first project as Playboy Creative Director in Residence is already here.
Announced via Instagram on Christmas Eve, it's a new platform they're calling "Centerfold".
"My first project with @playboy !!! introducing CENTERFOLD, so excited to share this platform with so many amazing creators @playboycenterfold," the 29-year old mother of two wrote.
The new initiative comes with its own website that is now live and is described, per the landing page, as: "A platform for creative freedom, artistic expression, & sex positivity. The home for the world's top creators to interact with their fans."
The "Centerfold" home page also includes a seductive photo of Cardi next to a pool right above the sign up toggle where fans can head over to create an account.
This news comes just under a month from when it was revealed that Bronx native would be the legacy magazine's first-ever creative director in residence.
​​"It is a dream come true to officially join the Playboy family. I can't believe this is real," she said at the time of the announcement. "For as long as I can remember, I've felt connected to Playboy. It's truly the original platform for uncensored creativity and I'm inspired by its incredible legacy of fighting for personal freedoms. I have so many ideas already—I can't wait!"