Sean Paul Is Not Here for Drake's 'Dancehall' Music
He's calling out the rapper for appropriating the sound.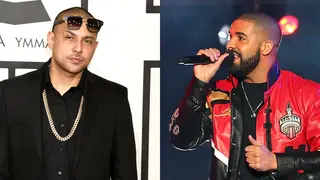 Sean Paul has long been a staple of the dancehall scene, helping to bring the sounds found throughout Jamaica to a worldwide audience. 
The uptempo genre, a derivative of reggae, comes to life on the dance floor, so it was only a matter of time until some of today's most popular artists were drawn to the region-specific sounds.
However, in the eyes of someone with a legendary career as a tastemaking producer and a Grammy-winning recording artist like Sean Paul, the appropriation of music is inexcusable and cheapened when its clear influences are not addressed nor credited, such as by artists like Drake or Justin Bieber. 
Dancehall has increasingly been making its way back into mainstream music, with artists such as Diplo, Major Lazer, Kanye West and Kendrick Lamar choosing to recruit dancehall artists to help craft their new music. 
"It is a sore point when people like Drake or Bieber or other artists come and do dancehall-orientated music but don't credit where dancehall came from and they don't necessarily understand it," Paul says in a recent interview with The Guardian. "A lot of people get upset, they get sour. And I know artists back in Jamaica that don't like Major Lazer because they think they do the same thing that Drake and Kanye did – they take and take and don't credit."
Paul is not the first (nor will he be the last) musician to call out Drake for appropriating dancehall, with Mr. Vegas doing so back in May, calling the Toronto rapper "fake" for not fully crediting his Jamaican influences.
"Dancehall is back but this time it's also infused with Afrobeat, with hip-hop, with trap, and that's fine with me," Paul continues. "Sure, I would like what we do in Jamaica, that authentic dancehall, to be on top, but it simply isn't. So I want [my new] album to bridge that gap."
During the interview, one thing becomes clear: dancehall isn't going anywhere. If anything, it's more important now than ever to study its history and better understand its island roots before "pioneers" like Drake or Bieber take all the credit. 
Check out Sean Paul's full commentary on the matter here.