Pitbull Countersues Lindsay Lohan
The Miami rapper strikes back after starlet's defamation suit.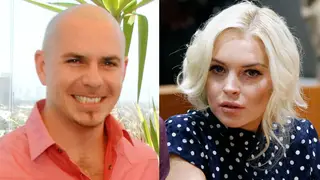 It's yet another good — or rather, profitable — day for Lindsay Lohan's legal team. Back in August, the starlet-turned-jailbird sued Pitbull over a line in his hit "Give Me Everything." Pitbull at first seemed apologetic, but now is hitting back with a countersuit. Three cheers for legal fees!
It all started when the Miami MC rapped, "I got it locked like Lindsay Lohan" on the chart-topping, Ne-Yo-featuring "Give Me Everything" earlier this year. In an unexpected move, Lohan filed a claim against Pitbull, saying that the "condemnation, excoriation, disparaging or defamatory statements by the defendants about the plaintiff are destined to do irreparable harm to the plaintiff."
Pitbull expressed remorse about the line at first. "When I mention Lindsay Lohan in the record, it was really a positive message," he said in an interview, explaining that in hip hop slang, having it "locked up" is a good thing. "I didn't mean to defame, degrade or hurt her career.... Maybe we can figure this out." He even invited the actress to accompany him to MTV's Video Music Awards in August.

But after Lohan allegedly turned down his apology, it seems that Pitbull is living up to his aggressive moniker — in court at least. According to NYmag.com, he's filed a countersuit, claiming that the actress' multiple prison sentences justify the line in question, and also arguing that Lohan was ineligible to file her original suit in New York, as she lives in California. 
Wait a minute — the starlet goes to jail, while the rapper takes it to court? What's wrong with this picture?

 (Photos from left: Albert L. Ortega/PictureGroup, Mario Anzuoni-Pool/Getty Images)