4 Times Pam And Martin Had Us In Stitches
Pam is unapologetically the clapback Queen.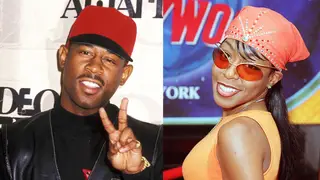 One of Martin's best bits was the perpetual shade fest between Martin (Martin Lawrence) and Pam (Tichina Arnold). Pam was the best friend of Martin's girl Gina (Tisha Campbell), but she was so much more than that. An official baddie whose outfit game always stayed tight, Pam was classy, bougie, feisty, and she never had a problem putting Martin––or any man for that matter––in his place. That's part of what made Pam and Martin's faceoffs so gut-busting funny: she never held back, and neither did he, making for an explosive relationship full of epic fights. In celebration of the show's 30-year reunion special on BET Plus coming June 16, here's a look back at four times Pam and Martin had us on the floor.
Pam Plays Herself, Trying to Audition for Biggie
"Baby, Baby Blow," Season 4, Episode 3 - 1995
The Notorious B.I.G cameoed in a 1995 episode, which had everybody and their momma trying to audition for him, including Pam. Her over-the-top entrance into Martin's apartment showing off her vocal chops is top-notch. Still, it's Martin's horrible treatment of her (he suggests they put a saddle on her and ride her like a horse) and her barbs back ("Whatever, Arsenio Small") that make this one of their funniest moments ever.
Martin Drags Pam's Anniversary Gift
"The Romantic Weekend" Season 3, Episode 24
When Pam comes by Martin's apartment happily showing off the ring Tommy (Thomas Mikal Ford) gave her for their six-month anniversary, Martin's hateration kicks into overdrive. "What you got there, Pam a new chew toy?" Martin says to her. Later, Pam claps back with, "That's funny, little man. Why don't you take a nap in your shoebox?" Hilarious.
Pam and Martin Face Off Over Thanksgiving
"Feast or Famine" Season 3 Episode 11
A competition to see if Martin and his boys could cook Thanksgiving dinner better than Gina and Pam gets heated, forcing Martin and Pam into another one of their insult-throwing battles. "You should try cooking dinner for yourself…if you can reach the stove, Short Boyardee," Pam says to him, prompting Martin to tell Tommy, "You better check your pet." Ouch!
"The Tooth Will Set You Free" Season 4, Episode 23
Pam and Martin's relationship wasn't always contentious. Every now and then, the two of them would see eye-to-eye in unusual circumstances, like when Pam was hypnotized during a dental procedure and ends up…turning into Martin. Things come to a boil at an art party when Pam—still convinced she's Martin—mimics his behavior so flawlessly she even throws everybody out using Martin's signature phrase. "Get ta steppin'!"