Houston Rapper Big Pokey Dies At 45
The legend died after collapsing on stage.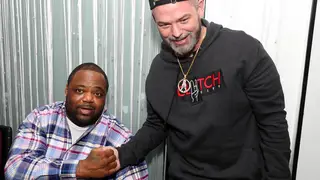 Houston rapper Big Pokey died on Saturday, June 16, after collapsing on stage while performing at a bar in Beaumont, Texas.
Dramatic footage from the night of the concert shows Big Pokey gasping into the microphone mid-lyric at the Pour 09 Bar as the shocked audience watched on as the 45-year-old rapper collapsed and fell backward, according to the New York Post. 
Paramedics immediately rushed the stage and the rapper was taken to a local hospital where he was pronounced dead.
Born Milton Powell--Big Pokey was a foundational member of Houston's Screw up Click. He rose to prominence with his 1999 debut solo album, The Hardest Pit in the Litter.
Acknowledgments from fellow Houston rap artists came pouring in after the announcement.
UGK rapper, Bun B, shared a message of tribute on Instagram writing, "I wasn't ready for this. One of the most naturally talented artists in the city. Low key, humble mountain of a man who moved with honor and respect. He was easy to love and hard to hate. He'd pull up, do what he had to do and head home. One of the pillars of our city. If heart of gold was a person. Iconic member of the SUC. There will never be another and will be missed dearly. We love and honor you Sensei. Rest in heaven."
Paul Wall also posted a short message on Twitter.
The Houston, Texas Hip-Hop Museum shared a video of the Tuskeegee University Marching Band playing one of Big Pokey's songs, "Ball N Parlay."
Most recently, the rapper released an album in 2021 called "Sensei."
His publicist confirmed his death in a statement, via the Post, ""It is with deep sadness that we share the news of the passing of our beloved Milton 'Big Pokey' Powell. Big Pokey passed away on June 18, 2023," his publicist told KPRC Click2Houston.
"He was well loved by his family, his friends, and his loyal fans. In the coming days, we will release information about his celebration of life and how the public can pay their respects. We ask that you respect his family and their privacy during this difficult time. Big Pokey will forever be 'The Hardest Pit in the Litter!'"
Houston Mayor Sylvester Turner also issued a statement, tweeting "The City of Houston and I extend our prayers and condolences to our own Screwed Up Click legendary rapper #BigPokey family and friends."
"Though many called him 'low key', his presence was larger than life in helping to catapult our hip hop scene nationally. We are grateful."