NLE Choppa's Latest Video 'Champions' Features LeBron James, Angel Reese And Floyd Mayweather Jr.
The song is from the Memphis rapper's new album 'Cottonwood 2'.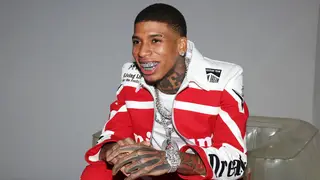 On Wednesday (May 31), NLE Choppa released his latest video for "Champions," a single off of his new project Cottonwood 2 (Deluxe).
The visual features cameos from both high school and collegiate champions, as well as well-known sports figures like Mike Tyson, Angel Reese, Odell Bekcham Jr., Floyd Mayweather, Jewell Lloyd, Michael Andrew, and LeBron James.
In the video, the platinum-selling Memphis rapper showcases how grit and determination build a championship-caliber athlete, while also expressing the importance of creative expression – both inside and outside the classroom.
Currently, NLE Choppa is on the road with Lil Durk for his "Sorry for the Drought" Tour. Watch his new video for "Champions" below.