Naturi Naughton Defends Phylicia Rashad After Bill Cosby Backlash
The singer took to her Instagram Story to voice her opinion.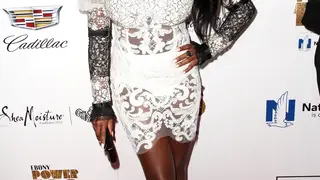 Naturi Naughton is coming to Phylicia Rashad's defense over her recent celebration of Bill Cosby's release from prison.
Taking to her Instagram Story on Monday (July 5), the 3LW singer wrote, "Why are Black People so quick to #Cancel each other!"
Naughton went on to say that she sides with the current Howard professor and former Cosby Show actress, and closed with the hashtag, "#TheCosbyShowChangedLives."
"FINALLY!!!! A terrible wrong is being righted- a miscarriage of justice is corrected!" the tweet said.
It was removed after people complained that Rashad was insensitive to Cosby's alleged sexual assault victims. There were some calls for her dismissal from the university, the Associated Press reported.
Howard released a statement that said, "Survivors of sexual assault will always be our priority."
"My remarks were in no way directed towards survivors of sexual assault. I vehemently oppose sexual violence, find no excuse for such behavior, and I know that Howard University has a zero-tolerance policy toward interpersonal violence," Rashad says in a letter, posted Friday, July 2.