A Lesson in Money, Brought to You by Kim and Kanye's Finances
Find out how the power couple deal with their millions.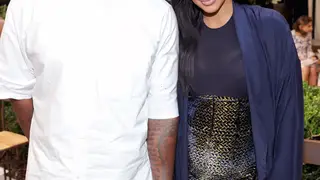 Kim Kardashian and Kanye West's marriage was not only a love story a decade in the making, but the merger of two celebrity empires. However, while the superstar couple share a home, two kids and a tendency to overshare on social media, they still keep their money separate. 
KimYe's finances came front-and-center this weekend after Kanye declared that he's $53 million in "personal debt" and begged Facebook founder Mark Zuckerberg for a billion dollars (you read that right) so that he can continue to "make dope s**t," but thanks to Kim's — and probably Kris Jenner's — savvy business skills, 'Ye's money woes have very little to do with the reality star.
First, let's make one thing clear: despite Kanye's claims, he's hardly poor. Both Kim and Kanye "make a lot of money, and money is not a problem with them," a source tells People. "They keep their accounts basically separate," the source added, explaining that West will "talk about 'my money' and 'her money.'"
As for that $53 milli, while it's true that Yeezy did spend around that much to build his music and fashion empires — $40 million on three seasons of Yeezy clothing alone — it's not like he has to worry about unpaid credit card bills. He still manages to out-earn what he spends, as crazy as his expenses are, so his "debt" doesn't come with a monthly payment plan. According to TMZ, 'Ye not only sunk tens of millions into launching his career as a designer, he also paid out of pocket to design the first generation of his Yeezy shoe line for Nike and didn't get back a dime in return. Since his move to Adidas, though, he seems to be doing just fine. Add to the bill hundreds of thousands spent to build sets for his Yeezus tour and his 2014 short film Cruel Summer and you start to get the picture.
So how much do Kim and Kanye actually earn? You might be surprised to learn that wifey is the real breadwinner in the family (actually, maybe not that surprised): according to Forbes, Kim charted No. 33 on the highest paid celebrities of 2015, grossing around $53 million from her Kim Kardashian: Hollywood game, E! contract and millions of endorsements. Interesting that her annual paycheck is almost exactly the same as Kanye's debt...
And Yeezy brought in close to $30 million in 2014, thanks to his successful Yeezus tour, and around $22 million in 2015. 
So there you have it — spend money, make money, it's all the same to this power couple. From a business perspective, it's a marriage made in heaven: 'Ye provides the "credibility" and Kim brings the business savvy. 
We know one way these two can add a few zeros to their bank balance. Watch BET Breaks below to see what we mean:
BET.com is your No. 1 source for Black celebrity news, photos, exclusive videos and all the latest in the world of hip hop and R&B music. 
(Photo: Donato Sardella/Getty Images for CFDA/Vogue)