The Internet Reacts To McDonald's New McVegan Burger
See how far you'll have to go to try the soy-based "burger."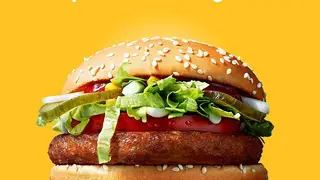 Obviously, when thinking of a greener diet, McDonald's isn't the place that comes to mind, but these days the fast-food-chain is looking to get in where they fit in. They are currently testing out a vegan burger called the McVegan, at a single location in Tampere, Finland. The soy-based patty with all the vegan fixings is available from Oct.4 through Nov. 21.
For now, state-side vegans will have to catch a flight to get a taste since McDonald's currently doesn't have a plan to sell the McVegan outside of Finland, according to Today.
Here's a look at what you're missing:
Of course the internet had a ton to say about McDonald's most recent addition:

While most agree that the McVegan can stay where it's at in Finland, others were in favor of and excited about the new fast food plant-based sandwich: