Bow Wow Recalls That One Time He Was Engaged To Ciara: 'I Let It Crumble'
"'Cause I ain't never had nobody do me like you..."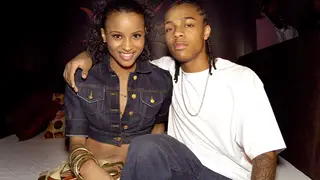 Before there was Russell Wilson, there was Ciara and Bow Wow. The duo, who first collaborated on their hit single "Like You," were pretty much the it-couple in 2005.
Although the two ended their romance on a rather sour note (rumors suggested Bow Wow cheated on the singer with various women), apparently the two had a much tighter bond than fans knew of. In fact, in the latest episode of Growing Up Hip Hop, Bow Wow revealed that he had popped the question to Ciara back in the day, and she said yes! 
The reflection on his past love life came up after a discussion he was having with Jermaine Dupri's daughter, Shaniah Maudlin, about her current relationship. The conversation eventually caused him to think of the many relationships in his life that failed, specifically the one with Ciara. "You want commitment, most women want that. Those are things that I've tried in my life, I've tried twice," he recalled. "I was engaged to Ciara and I was engaged to Erica [Mena]."
Unfortunately, the rapper didn't elaborate on how he proposed to the R&B singer more than a decade ago, but he did express his regret for messing up his relationships with both Ciara and Erica. "You know I let things in the past that I know was wrong affect my engagement. That's what was eating me alive," he continued. "Other than that, me and Erica would still be together. We would have never broken up. I didn't know how to handle it. And I let it crumble. I let something get away that really shouldn't even got away."
Bow has previously spoke about Ciara and how foolish he was to have lost her. In a 2016 interview with VladTV, he confessed that he finally realized how much he cared for the "Body Party" artist after he "tried to play her." He also admitted to being an "egotistic" guy at the time of their relationship.
Unfortunately for Bow though, that ship has sailed. Ciara is perfectly happy with her husband and two children. Oh well.