Fans Are Scorching This Singer For Her Comments On Fabolous' Domestic Violence Case
Leave Olivia Pope out of this one, please.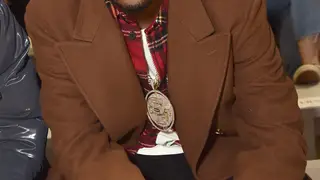 More voices are chiming in on the widely publicized domestic violence case involving Brooklyn rapper Fabolous and former Love & Hip Hop star and mother of his two children, Emily B.
Those voices must tread carefully (just ask The Game), or end up on the internet's blacklist like R&B singer turned radio hostess Lil Mo did. On Monday (April 2), Mo sat down with Revolt TV to give her two cents on her former R&B-hip-hop collaborator's controversy. She revealed in the nearly five-minute interview that she'd spoken to him recently, and the two exchanged loving words. She even pointed out that she ironically wore her Freddy versus Jason horror flick T-shirt in the interview, which happens to be symbolic of Fab's latest hip-hop undertaking with Jadakiss.
"He's managed to make it his whole career without no insult or injury," she said during the conversation after blaming social media for overhyping the situation. "I'm not letting him go out like that—I'll Olivia Pope this whole situation before I let somebody take my brother down. Something don't seem right."
Mo continued explaining that the situation is even more difficult to grapple with because she knows the playful, jolly side that not everyone does. She's never even seen him yell, she added before pointing out that he's from Brooklyn, and suggested that because he's always calm, cool and collected, the entire ordeal is hard to believe.
Elsewhere, the former 93.9 WKYS host appears to criticize Emily's father and brother also, who were present in the viral video footage of Fab wielding a knife, yelling and advancing at Emily. Mo does love her though, she added before pondering why they wouldn't just call her in the midst of the situation.
"My only loyalty is to him, and if that is the situation, then this is going to take some serious damage control," she said. "Whoever allowed this, they'd better fix this because he didn't work 20 years plus to go out like this."
The internet, on the other hand, is wondering who allowed her an interview on his situation in the first place after hearing what they've considered pro-Fabolous, victim-blaming gibber-gabber.