Russell Wilson Scores Big, Makes African-American History
Russell Wilson and the Seattle Seahawks make history and set NFL records in Super Bowl XLVIII.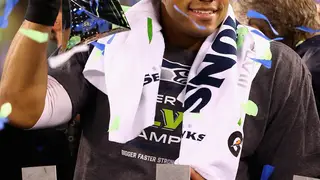 It was pegged to be one of the greatest match-ups in Super Bowl history; the best offensive team versus the No. 1 defensive team — but the Denver Broncos' top rated offense proved no match up for Russell Wilson and the Seattle Seahawks.  
On the second day of Black History Month, Wilson made history as the second African-American starting quarterback to win an NFL championship, after Doug Williams' 1988 win, when the Seattle Seahawks beat Peyton Manning and the Denver Broncos 43-8 in Super Bowl XLVIII.
"To be the second African-American [quarterback] to win a Super Bowl is an honor…It's history," Wilson told BET.com, "Hopefully I can represent for a lot of kids and give them hope."
While Wilson hopes that his victory will inspire children, his teammates can't help but look to him for inspiration as well. Wide receiver Percy Harvin, who played in his first game after being on the injured list all season, said that Wilson is one of the greatest leaders he knows.
"My hat's off to Russell," Harvin said of Wilson's historic night. "I have never seen anyone strive to be great like he does."
Russell's historic win wasn't the only history the Seahawks made last night. Harvin became the "comeback king" with his kick return in the third quarter, which gave the Seahawks a 29-0 lead — a record for most consecutive points to start a Super Bowl.
Malcolm Smith also had a night for the history books; he became the third linebacker to win Super Bowl MVP after catching an interception from Manning he ran 69 yards for a touchdown in the first half.
But with all the records broken and history made for the Seahawks triumphant win, who is to thank for their success? According to Wilson, the honor goes to God. "Tonight was a blessing," Wilson said. "God is good."
BET Sports News - Get the latest news and information about African-Americans in sports including weekly recaps, celebrity news and photos of your favorite Black athletes. Click here to subscribe to our newsletter.