Here's How Kourtney Kardashian Feels About The Father Of Her Kids Dating 19-Year-Old Sofia Richie
Interesting.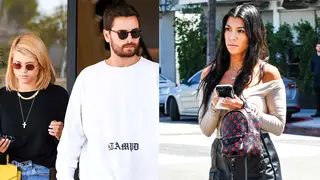 Scott Disick and Sofia Richie are the newest item to hit the town and while the young scion's iconic father, Lionel Richie, recently detailed his horror at the reality of them dating, Scott's ex, Kourtney Kardashian, is reportedly sharing her opinion on their union and she doesn't seem to agree.
According to TMZ, Kourtney is reportedly unbothered by the 34-year-old and the 19-year-old's romance. In fact, sources claim that she's happy if he's happy.
The site reports that their sources explained that Kourtney is all for the relationship as she believes it's compeltely genuine and she's excited that he's moving on seeing as she's done just that with her younger man, model Younes Bendjima, who is 24.
The reality star reportedly has had no problems with her baby daddy either, as of late, as they've gotten their co-parenting strategy down to a science and Scott's relationship with Sofia hasn't affected that at all.
Get more Kardashian news with BET Breaks, above.