Jada Pinkett Smith Has Summoned T.I. To 'Red Table Talk' To Talk About His Comments On Deyjah's Virginity
The rapper is also bringing his wife, Tiny, along to chat with the actress.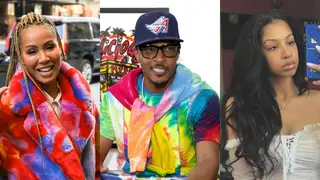 T.I. has been radio silent since his controversial appearance on the Ladies Like Us podcast where he admitted to tagging along to his daughter Deyjah's gynecologist visits to "check her hymen."
With weeks passing since the episode aired (it has since been removed), the rapper is confirmed to break his silence on Jada Pinkett Smith's Facebook Watch series Red Table Talk, and he's bringing his wife Tiny along for the ride.
While walking the red carpet for Hala, Jada told Entertainment Tonight that Tip is her next scheduled guest on the popular Internet talk show.
"My next big guest is Tip. T.I. is coming to the table. Yes, indeed," she said. "And of course, he's going to address the controversy that has been swirling."
She also shared that he and Tiny will be discussing their well-documented marital woes during the interview.
"We just shot that [episode of Red Table Talk] today," Jada added. "And then he and [his wife] Tiny sit down and talk about how they survived, in regards to their marriage. So that will be next Monday."
As previously reported, the rapper sat down with Ladies Like Us co-hosts Nazanin Mandi and Nadia Moham and boasted about monitoring Deyjah's virginity during her OB/GYN visit.
"I said, 'Look, doc, she don't ride no horses, she don't ride no bike, she don't play no sports, man. Just check the hymen please and give me back my results, expeditiously," he recalled. "But I will say, as of her 18th birthday, her hymen is still intact."
The 18-year-old has since deactivated her social media accounts.